A lot goes into planning a kitchen remodel or renovation. While your choosing new cupboards and coordinating countertops it's important to also think about how the space will function. Since you're already changing things up now's the best time to add in little features. You know, the kind that will make your life better!
When we approach a kitchen renovation we are not only looking at how to make that space more aesthetically pleasing for the homeowner. But also how we can make that kitchen work better for their needs.
All the ideas in this post are from real Artisan renovations here in Calgary!
Add a Narrow Spice Cabinet
Narrow cabinets are a great way to maximize otherwise wasted space in a kitchen. But what's also important is making sure they actually serve a purpose. That's why we installed a pull out drawer here, rather than a cupboard. Wire sides make it easy to see everything that's inside and keep spices from moving around when it's opened and closed.
The best part is everything is right next to the stove for when you're cooking!
Pull Out Appliance Drawers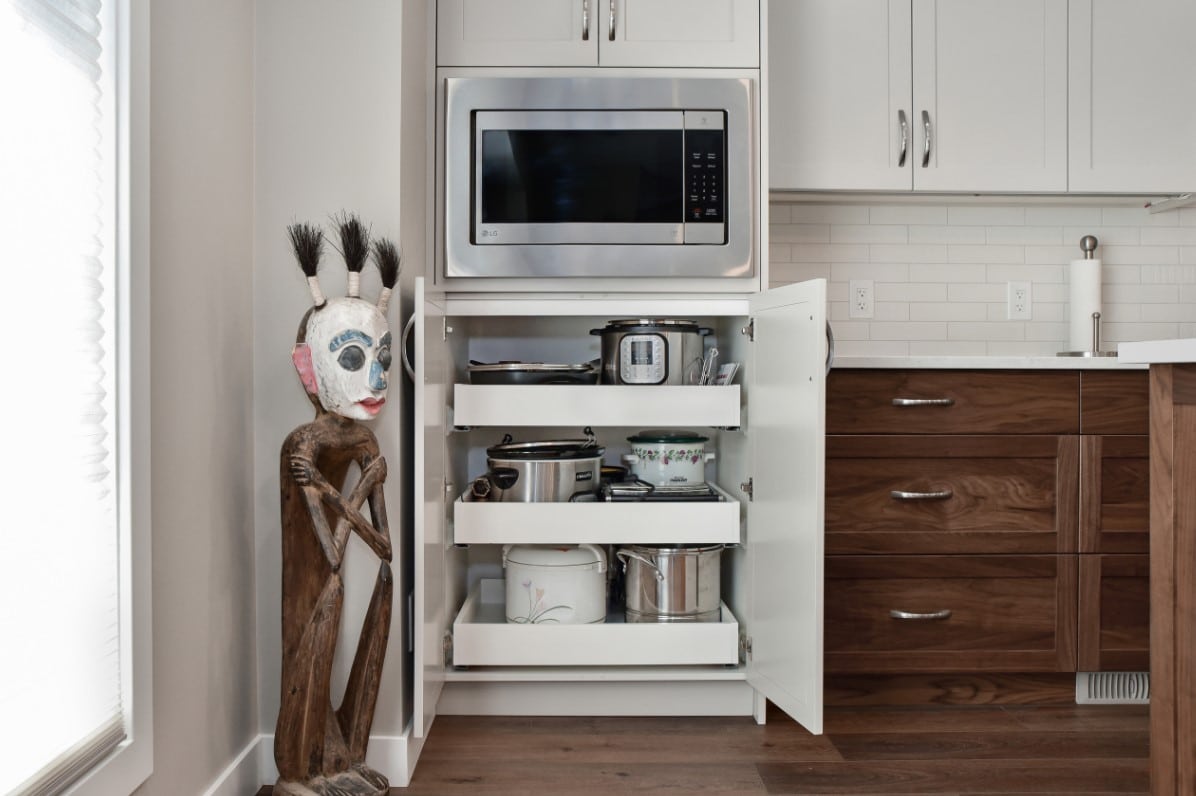 Instead of a full pull out drawer, these inserts sit inside a cupboard. That way you can keep that cohesive cupboard door look but still benefit from the functionality of drawers.
Small appliances are usually tough to pull out of cupboards and can take up space on the countertop. This drawer system solves both those problems! We also make sure to position the drawers so that the homeowner's different height appliances would all fit.
Upright Shelf Dividers
Baking pans, cookie sheets, cooling racks, and serving dishes are tough to organize. By adding vertical dividers inside the shelf, pans can stand upright. That way everything is visible when you open the cupboard door.
Since these items are only used occasionally we placed this cupboard above the fridge – which also helped turn that area into more usable space.
Wet Bar With Beverage Fridge
Not quite in the kitchen but this wet bar is positioned perfectly for living/family room entertaining. By including a sink, you create a functional space that will keep you from running back and forth to the kitchen while visiting with guests or relaxing.
Closed storage under the sink hide pipes and anything you don't want to see. The real gem, though, is the see-through mini fridge. These beverage fridges are perfect for entertaining spaces because they look super trendy and are functional too. Plus they fit perfectly under a countertop for a seamless look.
Dedicated Coffee Bar
In this home we installed a coffee bar adjacent to the wet bar, but you could add one anywhere in your home. There's several reasons why this is a great idea. First of all, you can keep your coffee maker and mugs on the countertop without them being in the way during meal times like in the kitchen. Another is that it creates a separate zone for coffee outside of the kitchen to avoid congestion. Especially in mornings.
Drawers and cupboards keep everything neat, tidy, and organized to make your morning routine easier.
Pot Filler Over the Stove
If you're able to add plumbing this is an awesome addition for any new home or renovation. Now you can fill pots right on top of the stove – no more hauling back and forth to the sink.
It's not just handy for convenience though; it also means you don't have to worry about clearance as much with your faucet.
Pull Out Trash Cans
Anything that pulls out is easier to access than a cupboard. If you're renovating or redesigning your kitchen make sure you have a plan for how you'll handle waste. By keeping it in its own cupboard you avoid smells and an unsightly trash can in your brand new kitchen.
A double system like this is great if you want a solution for recycling or save food scraps for compost.
Wall Microwave
These are starting to replace both over the stove vent microwaves and countertop ones. Dedicated microwave cabinets make it possible to insert a microwave seamlessly into the cupboards – similar to a wall oven.
We like to add them in areas where you'd prefer wall to ceiling cabinets or if you prefer the microwave at a certain height. These microwaves also look more seamless in the kitchen and don't allow spaces for crumbs or dirt to collect compared to countertop versions.
Think it's time to renovate your kitchen? Get in touch with Artisan and let us help you achieve your renovation goals.