It's hard to believe that summer is almost over! For families with school aged kids, mid August means back to school season is in full session. But that also means busy back to school mornings are on their way too – here's some ways you can organize your home to make those back to school mornings easier.
Home Organization Tips for Back to School
When we complete kitchen, bathroom, or other home renovations our focus isn't just beautiful design – we also strive to make spaces functional. If there's children involved, that means having plenty of practical storage spaces to help the family stay organized.
Organize Your Entryway
Your entryway can be the difference between streamlined school mornings and total chaos. It also helps keep the area clean, especially when you install storage at kid-friendly heights so they can puta way their coats, shoes, and backpacks on their own.
Our Canadian winters mean we also need space in the entrance for winter gear like snow pants and mittens. Built-ins are a great way to add stylish storage to almost any entry way, even smaller ones. Benches, shelves, and drawers are also practical ways to hide outwear clutter while keeping it accessible.
Create a Homework Station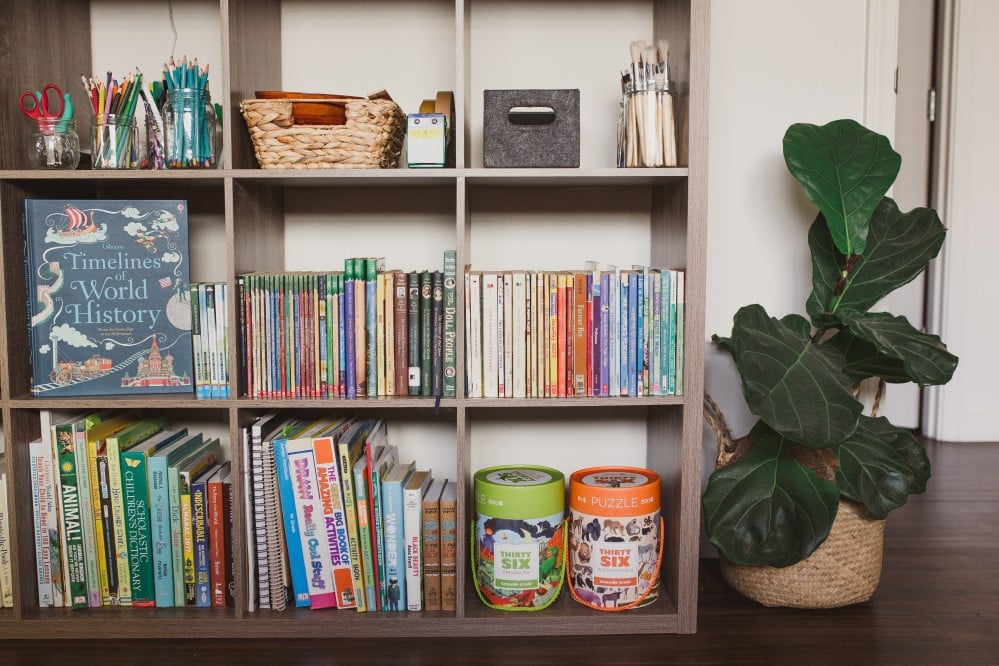 Most kids dread doing homework, but you can at least make it easier to get started by keeping supplies organized and ready. Gather up pencils, pens, erasers, glue, scissors, a pencil sharpener, colouring supplies, and anything else your kids typically need to complete their homework. Having everything in one place means you aren't running around the house looking for an eraser while you're trying to cook dinner.
If you don't have space for a dedicated shelf, a small tabletop caddy, pencil case, or organized drawer all work well.
Keep the Pantry Organized
Whether you're doing the packing or kids are packing lunches on their own it's going to go smoother if you can easily find everything you need each morning. That means having a tidy, organized kitchen – including the pantry. Make sure all the lunchbox snacks in the pantry are organized and easy to see. Containers (like the ones above) can help keep bulk items fresh as well as be filled with individual snacks.
You could also add a basket in the fridge dedicated to school snacks for those cold items like yogurt and fruit. While you're add it, make sure your containers are organized too including finding the matching lids.
Finally, keeping organized in the kitchen doesn't just help with packing lunches. You'll also make your mornings and evenings easier if you can find breakfast and dinner ingredients quick!
Lay out Clothes the Night Before
This is one of the easier back to school organization tips to implement, but also one of the most help. Have kids (and working parents too!) choose outfits the night before so that they're ready to go in the morning. This doesn't just eliminate early morning battles, but it also gives you an opportunity to find anything missing without as much stress.
While you're at it, keep clothes organized with bedroom furniture or consider installing a custom closet organizer.
Use a Family Calendar
Having a single family calendar is a great way to keep everyone organized and on schedule. You can add sports, school events, and important deadlines so you're always aware of the day's plan at a glance.
If you don't like the idea of hanging a calendar on the wall of the kitchen, entry, or on the fridge consider adding one to the inside of your pantry or using a decorative framed dry erase board.
We Can Help You Stay Organized
Sometimes no matter what you try, organization doesn't work because the space doesn't work. We specialize in kitchen and whole home remodels, which can include upgrades and organizers to make storage more functional. Contact us for more information.