Who doesn't love checking out home or kitchen renovations? The before and after photos are so satisfying! But it can also be frustrating to only see breathtaking renovations completed inside large homes. After all, not everyone has the space for a 5 seat island (or kitchen island at all)! Here's some of renovated kitchens that might be small, but they still have big impact.
Our Best Small Renovated Kitchens
All of these kitchen renovations you see here were completed by our team at Artisan Kitchens & Renovations. Our philosophy is to take advantage of all available space and plan a kitchen around your unique storage and lifestyle needs.
You don't need a lot of space for your kitchen to be stylish and functional!
Small Kitchen Solution 1 – Pantry Around the Fridge
It's pretty common for people to add in a pantry when they renovate their kitchen, often in the corner. While it's great for storage, walk-in pantries also take up a lot of space. And to be honest, a corner pantry really isn't the most efficient way to use your space. Floor to ceiling cupboards around the fridge can be used as a pantry alternative. If the inserts are designed to your needs, you'll probably find it easier to access what's inside and keep everything organized.
Click here to see more photos of this renovation. 
Small Kitchen Solution 2 – Unique Island Shape (& Small Addition)
One of our best small renovated kitchens! With this design we added an almost-square kitchen island rather than a traditional rectangle. By softening the corners we could add more seating and make it easier to walk around without sacrificing usable space. This renovation had some unique challenges, including a small addition that added just enough extra space to make the layout work.
Additions are a great way to make small spaces bigger and there are plenty of solutions out there to make it happen.
Click here to see more photos of this renovation. 
Small Kitchen Solution 3 – Make Corners Work
Corners pose their own unique challenges. This kitchen is open to the rest of the space (including breakfast nook and living room) but is sort of tucked away in the corner. Custom cabinets are a great way to take advantage of every square inch rather than wasting space with pre-determined sizes. Even though the kitchen is on the smaller size we still added an island to add extra counter space while cooking or entertaining.
Adjacent to the island is a wall of floor to ceiling cupboards surrounding the fridge that serve as a pantry.
Click here to see more photos of this renovation. 
Small Kitchen Solution 4 – Change How You "Eat-In"
Eat in kitchens are great, but having a table and chairs can really take up a lot of space. To add more space to this galley kitchen we expanded it into what would be the "breakfast nook" or "eat-in dining" area. Then we added a small peninsula that doubles as a breakfast area that's open to the living room.
Click here to see more photos of this renovation. 
Small Kitchen Solution 5 – Practical Storage Solutions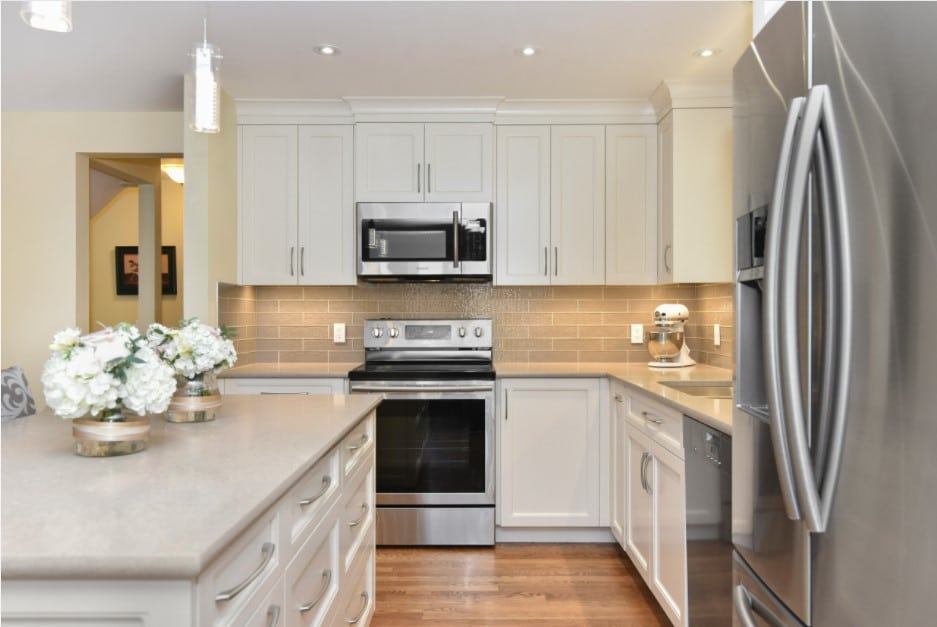 Don't let this kitchen fool you, it's full of clever storage solutions. Check out the full gallery to see them – there's too many to list here!
Ready to get started? Contact us to see how we can create a renovated kitchen in your space!